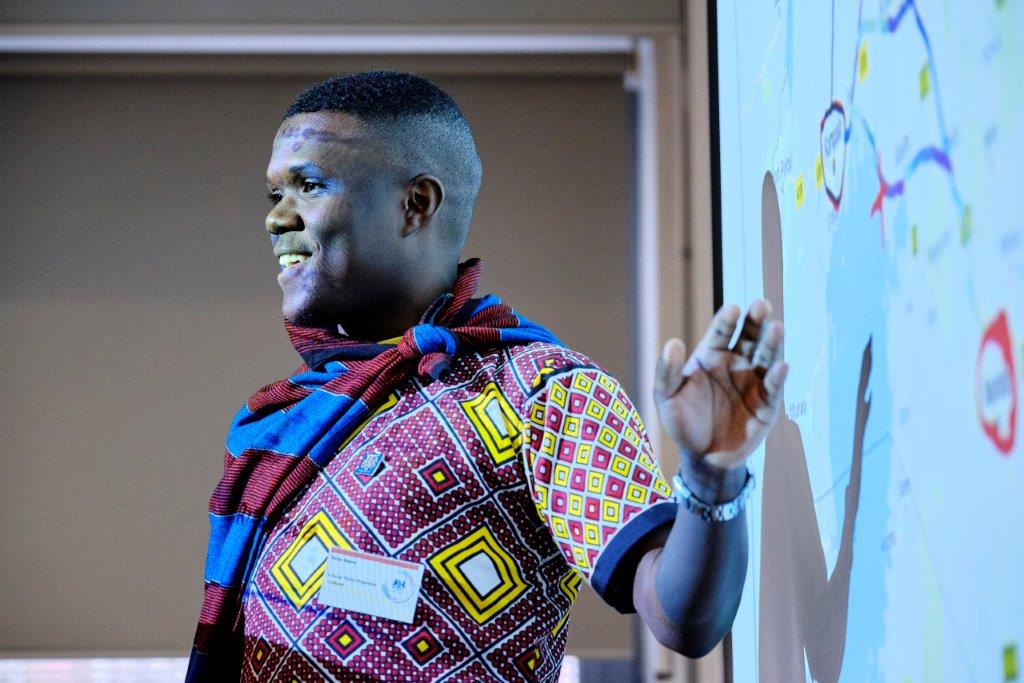 Chevening Conference - Big ideas: Global leadership in 2020
Chevening Conference is the third-largest event in the Chevening calendar, an inspiring day of learning, connecting, and sharing ideas.
Due to the global pandemic, this year's conference is taking place virtually over two full days on Wednesday 1 July and Friday 3 July. This year's conference will explore the theme 'Big Ideas: Global Leadership in 2020'. You can see the full programme for the two days below, along with the subject areas that will be covered.
You will hear from Chevening Scholars presenting their ideas towards leading and inspiring change on a local, national or global level. You can watch or listen to as many presentations as you like on both days, and you will receive details on how to join the conference from the organising team.
We will also have scholars exhibiting their presentations through posters during the event and these can be found here. You can also read more about the presenters on Wednesday and Friday.
---
Conference programme
Wednesday 1 July 2020 – Morning Session
10:00 – 10:05: Welcome and house rules – Linda Deleay (Senior Programme Officer, UK team, Chevening Secretariat)
10:05 – 10:15: Welcome to the conference – Miranda Thomas (Director, Chevening Secretariat)
10:15 – 11:20: Session 1: Development
10:15 – 10:20: Introductions by Chair – Linda Deleay
Scholar presentations
10:20 – 10:40: Irina Semykina (including 5-min Q&A)
10:40 – 11:00: Abdoulie Kurang (including 5-min Q&A)
11:00 – 11:20: Giang Tran (including 5-min Q&A)
11:20 – 11:40: Break
11:40 – 12:25: Session 2: Media & Communications
11:40 – 11:45: Introductions by Chair – Linda Deleay
Scholar presentations
11:45 – 12:05: Marina Shupac (including 5-min Q&A)
12:05 – 12:25: Adzfar Aziz (including 5-min Q&A)
12:25 – 12:35: Poster 1: Lara Machado (including 5-min Q&A)
12:35 – 12:40: Closing remarks – Miranda Thomas
---
Wednesday 1 July 2020 – Afternoon Session
14:20 – 14:25: Welcome and House Rules – Linda Deleay
14:25 – 14:35: Welcome to the afternoon session – Miranda Thomas
14:35 – 15:20: Session 3: Human Rights & Conflict
14:35 – 14:40: Introductions by Chair – Linda Deleay
Scholar presentations
14:40 – 15:00: Andrea Guardo (including 5-min Q&A)
15:00 – 15:20: Akari Bo (including 5-min Q&A)
15:20 – 15:40: Break
15:40 – 16:05: Session 4: Health
15:40 – 15:45: Introductions by Chair – Linda Deleay
Scholar presentations
15:45 – 16:05: Solomon Wong (including 5-min Q&A)
16:05 – 16:15: Poster 2: Ire-Oluwa Adegoke (including 5-min Q&A)
16:15 – 16:20: Closing Remarks – Miranda Thomas
---
Friday 3 July 2020 – Morning session
10:00 – 10:05: Welcome and House Rules – Catherine Rooney (Senior Partnerships Officer, Chevening Secretariat)
10:05 – 10:15: Welcome to the Conference – Naomi Rayner (Head of Scholarships, Foreign and Commonwealth Office)
10:15 – 11:20: Session 5: Environment
10:15 – 10:20: Introductions by Chair – Catherine Rooney
Scholar presentations
10:20 – 10:40: Nashwa Naushad (including 5-min Q&A)
10:40 – 11:00: Frank-Leonel Tianyi Tianyi (including 5-min Q&A)
11:00 – 11:20: Kareem Abdalaziz Abushama (including 5-min Q&A)
11:20 – 11:40: Break
11:40 – 12:45: Session 6: Technology
11:40 – 11:45: Introductions by Chair – Catherine Rooney
Scholar presentations
11:45 – 12:05: Yasmin El-Beih (including 5-min Q&A)
12:05 – 12:25: Zaim Mohzani (including 5-min Q&A)
12:25 – 12:45: Sabina Sharifova (including 5-min Q&A)
12:45 – 12:55: Poster 3: Yugendra Balachandran (including 5-min Q&A)
12:55 – 13:00: Closing remarks – Naomi Rayner
---
Friday 3 July 2020 – Afternoon Session
14:00 – 14:05: Welcome and House Rules – Catherine Rooney
14:05 – 14:15: Welcome to the afternoon session – Naomi Rayner
14:15 – 15:00: Session 7: Public Policy and Governance
14:15 – 14:20: Introductions by Chair – Catherine Rooney
Scholar presentations
14:20 – 14:40: Nevena Manic (including 5-min Q&A)
14:40 – 15:00: Alejandro Henao Mejia (including 5-min Q&A)
15:00 – 15:30: Break
15:30 – 16:35: Session 8: Social Justice
15:30 – 15:35: Introductions by Chair – Catherine Rooney
Scholar presentations
15:35 – 15:55: Aye Kyaw (including 5-min Q&A)
15:55 – 16:15: Ejiro Okotie (including 5-min Q&A)
16:15 – 16:35: Nora Robledo (including 5-min Q&A)
16:35 – 16:45: Poster 4: Iman Mubarek (including 5-min Q&A)
16:45 – 16:50: Closing Remarks – Naomi Rayner