BBC World Service placements
Applications for the Chevening/BBC World Service Group Professional Placement Programme are currently closed.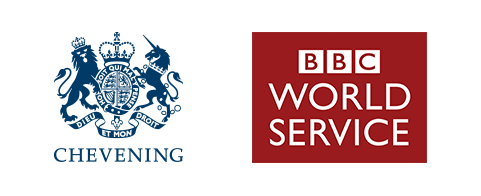 Applications will open again in 2020; scholars will be notified through the Scholargram.
The programme
Successful applicants will complete a three-and-a-half month placement at the BBC.
Depending on their skills and interests, successful applicants could be placed in one of a number of areas of World Service Group activity including: World Service news programmes, BBC News online, World Service radio, digital output, BBC Media Action, BBC Monitoring, one of the BBC World Service language services, or Solutions-Focused Journalism.
The programme will also include:
Enrolment on a bespoke one-week course at the BBC College of Journalism.
Access to College of Journalism courses on the same basis as BBC staff. Awardees will be expected to complete at least one additional course during their placement.
Successful applicants will be supervised at a BBC location in London, and will have a BBC mentor to assist them during the placement.
Successful applicants will receive a stipend of £1,331 from Chevening for the duration of the placement, in addition and in order to meet the BBC standards under the New Talent Policy, the BBC will provide a 'top up salary' of £1,187 for the period of 30 September to 20 December. Successful applicants will be expected to find suitable accommodation themselves.
To see what 2016/2017 scholars did whilst on placement, take a look at their #MyCheveningJourno blog for stories and videos about life at the BBC.
Eligibility
Up to ten placements are available to current Chevening Scholars studying relevant degree programmes in the UK. Due to the nature of the professional placement, applicants must also demonstrate that they have at least two years' experience as a working journalist, and/or have or will have completed a master's in journalism from a UK university by the time that the placement starts.
To apply
Applications are not currently open.