Twelve Chevening Alumni have been selected to do placements in different departments of the BBC World Service, a highly respected British institution, over a period of four months.
We are sharing their stories, thoughts, and videos from their time at the World Service through our rolling #MyCheveningJourno blog.
We'll be posting regularly on this page as new content comes in from our talented team of journalistic alumni, so check back again soon for more! 
More information on the placements can be found here.
11 January
'You stay classy, scholars': BBC placements come to an end
Our #MyCheveningJourno BBC placement scholars gather one last time at the BBC Club to swap stories, and discuss a fantastic four-month placement.
Chevening wishes you all success in your future careers, on the air, online, and in print.
Until we meet again...
10 January
New life for an old language online
More than 100 years after it was invented, Esperanto is spoken by relatively few people.
But the internet has brought new life to this intriguing, invented language, writes Jose Luis Penarredonda.
7 January
Food for thought
Emily Kasriel, Cheveners' contact at the BBC World Service, hosted a reunion of all the Cheveners who have been working with different departments within the BBC in London.
'It was a wonderful evening, with interactions and meaningful conversations over some delicious food, cocktail and wine,' said Arjun Chatterjee. 
Fran Unsworth, who has recently been appointed as the BBC's Director of News and Current Affairs, was also present to share her thoughts with the Chevening Scholars.
6 January
Freedom from dance
Tah Peter has sent us this story of the rescue of two sloth bears in Nepal named Rangeela and Sridevi.
The two animals had been captured and tortured into submission by their owners, then made to entertain people for a fee for over two decades.
They have been freed and their owners have been employed temporarily to cater for them while preparations are being made for them to be transferred to a sanctuary in India.
Using bears for entertainment is an ancient practice that was common in some parts of Europe and Asia.
Find out more about this story here.
5 January
Things that made us smile in 2017
Pooja Chhabria looked back over all things light-hearted in 2017.
As a producer at the BBC's Digihub, she's produced a number of video stories for World Service language channels. Pooja was the lead producer on this video project - scripting, producing, and editing this fun video: 'The things that made us smile in 2017'.
The video was picked up by several language sites, gathering a large number of views, likes, and shares along the way.
4 January
Changing the face of the BBC World Service: Q&A with Dmitry Shishkin
Dmitry Shishkin is Digital Development Editor for BBC World Service Group. This is his second stint in the role.
As the title suggests, he oversees functions of a team that focuses on the digital development of the World Service language platforms and drives their digital strategy.
Mr Shishkin began work at the BBC at the age of 19 while still pursuing his degree at the Moscow State University.  Although formats, platforms, and audiences have changed, he remains confident that the BBC is 'the most advanced media company in the world in terms of harnessing editorial rigour, intellect, and newsgathering from across all the output - for the benefit of everyone'.
The media giant has a tough challenge ahead; a goal to reach 500 million people by 2022.
It is in the process of rolling out services in 12 new languages to expand its global footprint. The expansion means BBC News will operate in more than 40 languages.
Chevening Scholar Pooja K Chhabria sat down with Mr Shishkin to gather insights on the lessons he's learnt during his journey and the challenges that lie ahead.
Pooja: Can you tell us more about the BBC's plan to reach 500 million people?
Dmitry: The 500 million reach is across news and world services. We are really tough on ourselves; we only count engaged users on social media towards our own growth numbers.
Some companies basically count reach but it is crucial to look at engagement. We only count the people who have interacted with our content in some way: liked, commented, or shared something.
What values, according to you, are at the core of the BBC's approach to change?
We are not pretending to be the answer to everything; we want to be that thoughtful friend that represents the world.
If you ask me 'what is the one thing that the BBC does and should be doing?' it's just making sense of the world to young people. We spend a lot of time explaining things.
We do explainers, Q&As, profiles, analysis. The number of headlines ending with a question mark is skyrocketing because we are basically looking at an event and asking, 'what has happened, why it is happening right now, and what does it mean?'
What is the biggest challenge in doing that across teams and with different languages around the world?
The biggest challenge during my first stint in the role, several years ago, was that my message on digital adoption was one of five or six other important messages. Now, in my second stint in the role, nobody needs to be persuaded about the importance of the digital platform.
My job is to start influencing people about new things as early as possible. I have the best job in the world. The way I see it is, it's a triangle between the editorial, technical and the organisational. So, my team essentially understands all three and we understand how to get things done.
What are the ways in which the BBC is changing its approach towards audiences?
Journalists, generally, are being asked to be more open to different treatments and be flexible. That's why we are introducing the six user needs; it really does change the way people think and the way they commission and plan the stories.
As we diversify the content offer, the tone will change because obviously, you tell different stories and different stories will demand different approaches from journalists.
To give an example, we would like to narrate the story of a young person in Jakarta which would be relevant to people in Indonesia, but the same feature will also refer to the experiences of a young person in any other country.
The way we are training the journalists and editors in the last decade includes collaboration between different regions.
There's often a sense of loss among English readers in countries like India about the frequency and nature of coverage on the BBC website. What do you think about this?
As languages, we invest a lot in English language coverage because we understand that the people who are running a certain language section on the website need to have more processing power. The same is with South Asian languages.
We are investing more money in hiring journalists who can broaden our coverage in English. If you look at BBC Africa, one of the things we have done is that we have launched the 'Africa Live' page. They treat a continent as if it were a live event and continue to update this during the week. They still do news and features but they also include snippets happening in different parts of the continent at the same time.
This move has doubled our African audience since its launch and has made us consider the possibility of a similar 'India Live' page.
Are there any noteworthy changes among the language sites?
I was very proud of the guys who launched all four new Indian sites because when you look at these sites, you see a healthy mix of content. One of the indicators of success for me is the number of female faces on the page because we weren't focusing enough on representing women within our storytelling.
About two years ago, I went to India's capital, Delhi, and we did a lot of change management with the Hindi site. This involved a thorough analysis of the coverage. It was found that every time a story with a female protagonist was published it would do much better and even exceed our average page views. It has worked well for us.
BBC Hindi does not aim to cover stories in the same fashion as others but rather to include an original take on what's happening; this is the same for all other languages.
Finally, what advice would you give to those starting out in the field?
The most important thing is that you should always put in that extra ten per cent; managers are always on the lookout for people who can solve their problems.
To put it simply: there is an area that needs a solution and you need somebody good.
3 January
Tough topics at HARDtalk
Arjun Chatterjee helped produce this episode of HARDtalk featuring an interview with Indian journalist and writer Swapan Dasgupta, a member of the country's upper parliamentary chamber.
Arjun has also worked with the HARDtalk team to produce shows featuring guests including Ernest Moniz, Energy Secretary in the Obama administration; acclaimed novelist Orhan Pamuk; Masrour Barzani, Chancellor of the Kurdistan Regional Security Council; and American actress, writer, and political activist Jane Fonda.
He's also worked with the team on ideation, research, and bidding for eminent guests for the programme. Arjun describes his time at the BBC as 'an experience worth living'.
19 December
The story of an unexpected Christmas gift
The spirit of Christmas generosity is very much alive in this story; it's a heart-warming news piece about how one radio listener fulfilled a traveller's Christmas wish.
The piece was produced by Claire Lee, who's currently on placement at BBC Outside Source.
5 December
Bitcoin and art
1 December
Five lessons learnt at the BBC - by Ivana Kostovska
At some of the compelling lectures on the Media Management MA course at the University of Westminster, I had an opportunity to learn about the BBC's values, its strategies, and for the operational problems and opportunities of the British public broadcasting service.
I was excited to understand the importance of the BBC's audience segmentation, and why the BBC has a unique place in the UK's broadcasting ecology. Also, I read about managerial insights from the BBC in a period of great change from the books of one of the leading media management scholars, Lucy Küng.
But the opportunity to wear the BBC staff badge gave me a new taste of everything that I've learned before. It is like reading a recipe from a cookbook about a chocolate fudge cake with caramel cream icing and you get an opportunity to taste its flavour.
Instead of just reading about the attitudes that shape the BBC's broadcasting policy, and how one of the best-known media organisations answers challenges posed by media convergence, I got a chance to tap into the BBC's creative drive. It is a media world with many glassy shop windows where you can 'buy' experience from creative teams that exchange ideas to prepare different media products.
The most important lessons I've learned in the BBC are structured here in a 'Buzzfeed-style' list:
1. Creativity
It is part of every blood cell of the BBC: its organisational life, culture, but also its strategy. Creativity is not just a fancy word written by the BBC's strategists, but an everyday practice. Creativity is central to media organisations which have to create a work environment which boosts creative abilities.
2. Innovation
In fact, creativity is the first step to innovation. As digital continues to transform the media landscape, the BBC stimulates innovation to be competitive in the global media arena. Innovation is not just about big investments in VR and in advanced technological tools for audience engagement. It is also about novel thinking and experimentation.
3. Connecting with audiences in a meaningful way
The technologically-driven challenges provoked by the internet did not put the BBC in a running race for clicks. Its long-term objectives are to serve all audiences and improve value for money through a more efficient and more open BBC. Interactivity allows BBC audiences to engage in different ways, such as taking part in a competition and deciding which match to watch on Wimbledon. So connecting with audiences through discussions, suggestions, and questions is important to build audience engagement and trust.
4. Learning
In the BBC I understood that producing a programme often requires reading a book or two on a certain topic. So, media organisations should place great emphasis on developing a learning environment. Therefore, BBC Academy is designed to provide the BBC's staff with the opportunity to discover, learn, and grow through online and classroom courses and materials around different themes, such as social media newsgathering or the challenges of developing content for children.
5. Strategical thinking
Strategic thinking and planning enables the BBC to adapt to changes in the media industry. Identifying and analysing the strategic challenges and opportunities, but also quantifying the media markets is inevitable for a media company that wants to respond to change.
8 November
The evolution of women's sportswear
As part of the BBC 100 Women challenge tackling sexism in sport, Chevening Alumna Ritwika Mitra has been taking a look at how women's sportswear has developed over the decades.
Over time, as women have become more active in sport, their sportswear has become more practical - though there are some exceptions.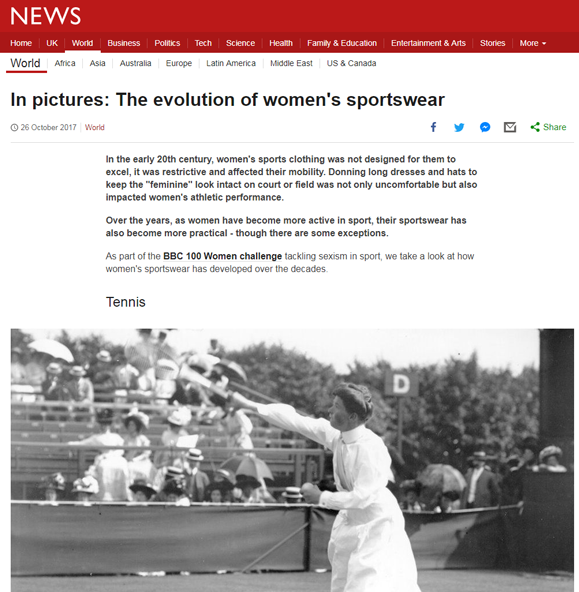 7 November
Behind the scenes at the BBC with Tah Peter Fomonyuy
Watch Tah Peter's video for a fascinating insight into life as a BBC journalist on the Newsday programme.
6 November
Campaigning for the hijab emoji
Bienne Huisman is delighted to have produced and edited a lead story for the BBC's Cultural Frontline programme - on a campaign for a new hijab emoji.
Rayouf Alhumedhi, a teenager living in Vienna, made digital history by calling for an emoji to represent women who wear hijabs.
Rayouf was creating a WhatsApp chat group for her and her friends, and couldn't find an emoji to represent herself - which is when the Hijab Emoji Project started.
Bienne's item 'apparently garnered unprecedented listener figures for the show'.
Listen to an interview clip here.
6 November
Colombia's fight against coffee disease
Jose Luis Penarredonda has just posted his first piece as a writer and producer at BBC Future.
His article is about the little-known Colombian laboratory engaged in a decades-long fight to save coffee from 'coffee rust', a disease that could disrupt coffee drinking everywhere.
Colombia is the third largest producer of coffee in the world and Jose Luis is enjoying the opportunity to find connections between Colombia and the UK.
Read the full article here.
21 October
The 'icing' on my journalism career – life at BBC Newsday by Tah Peter Fomonyuy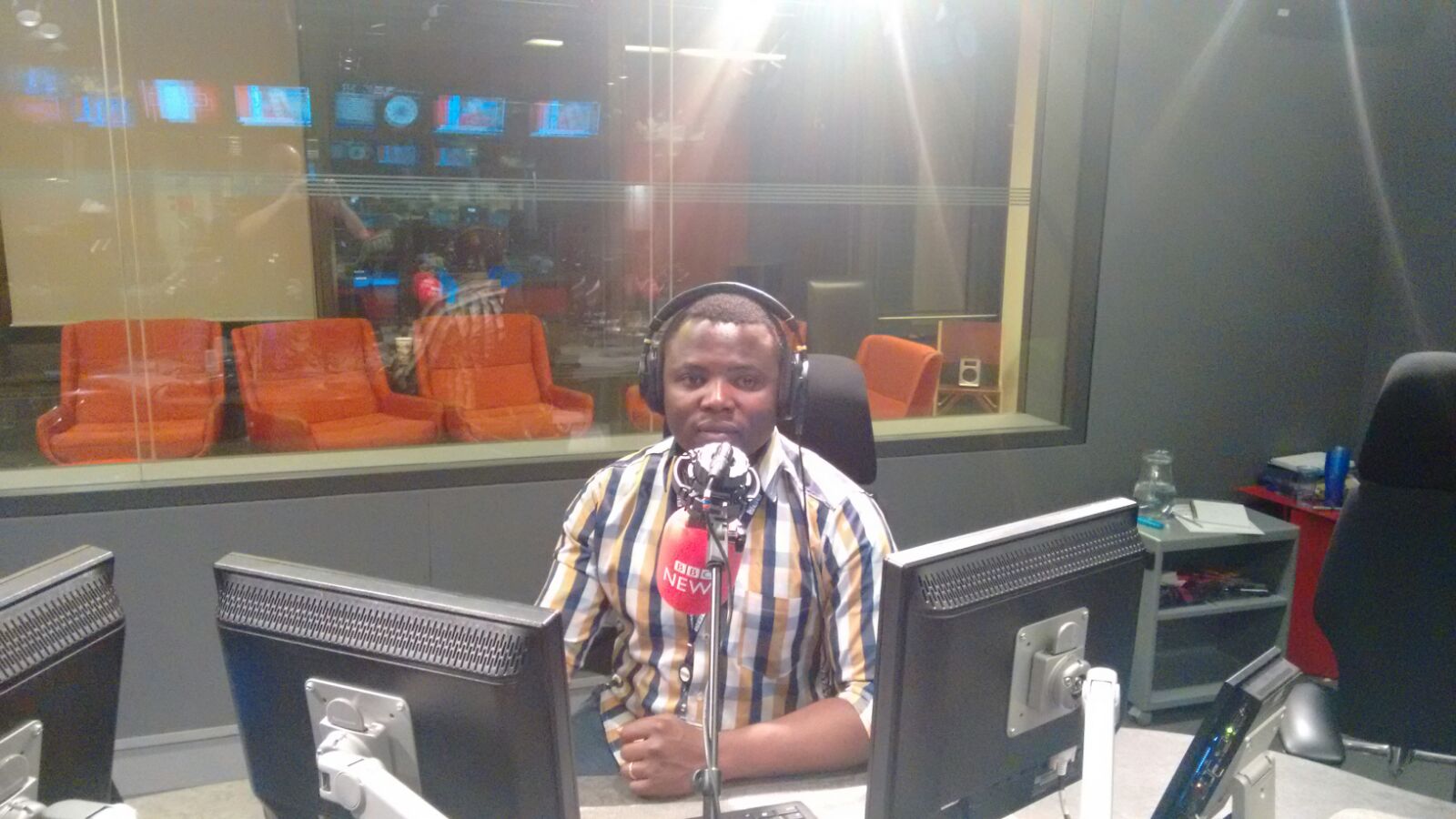 Five weeks into the four-month placement, I feel so happy that I've been given this chance. I'm grateful to Chevening for this opportunity which has seen the realisation of my dream to work with the BBC World Service in London.
Even though I've worked as a journalist for over eight years, this is my first experience in a 24/7 news setting.  Becoming one of the Chevening journos and working in the biggest news corporation in the world (BBC) gives me an incredible sense of accomplishment and joy. There wouldn't have been any better way to wrap up #MyCheveningJourney in the UK.
I'm working on the Newsday programme which is the BBC World Service's international early morning news and current affairs programme. Already, I have helped produced over 15 pieces for radio.
I joined the Newsday programme not really knowing what to expect, but, so far the collaboration from the editors and other journalists and producers on the team has been phenomenal. After attending a one-week course in broadcast journalism at the BBC Academy, I joined the indefatigable team and have since been putting all the knowledge and skills into practice. From doing a master's degree in Political Communication at Cardiff University to working as a producer with the BBC is such a transition, with far-reaching benefits for my career.
So far, I have integrated well with the team and have been doing both the day and the night shifts. With about three more months to go, I strongly believe there is still loads more to learn and a lot of practice to do. Without a doubt, this placement marks a great turning point in my career.
After this rewarding experience, I hope to go back to Cameroon and put these skills into use, especially as my country is nearing a defining period in its political life with the presidential, parliamentary, and municipal elections billed for 2018 and the Africa Cup of Nations in 2019.
In the meantime, I am taking this time to put in as much as I can into my placement, for this determines how much I get out of it. This is also an absolutely unique opportunity to visit all the wonderful places in the beautiful city of London.
20 October
'Going back to reality' - life at BBC Future by José Luis Peñarredonda
I have something to confess: I was supposed to stop working in media. 
The original plan was using this year of self discovery to find out what was the next step. I loved journalism, but was tired of many of its less nice tidbits. I wanted to do something new, to find novel ways of telling stories and fulfilling my passion and my curiosity.
I'm glad that I didn't do that. After a month here in the BBC, I find again that newsrooms are my natural space. I felt again the thrill of telling a good story, of making an impact on the world. I love it.
The first week was incredible. Working here, in one of the most influential and respected media organisations of the world, is a dream many colleagues have. The thrill of being able to make it was one of the best feelings I've had in a long time (I think the last time was when my Chevening Scholarship offer arrived early last year). Seeing first-hand the very studios you've seen on TV many times before was thrilling. Learning 'how the sausage is made' is just amazing.
I work on BBC Future, a site focused on long-form journalism about science and technology. I was a regular reader long before I got to the UK, so it was great to be part of the team. They gave me interesting projects to work on since day one; they want to increase their video production and I'm helping with that. 
There are also a couple of really cool stories that I'm working on, and you'll find out as soon as I can share the news. For now, I can say I have learned a lot about my profession and about the culture of journalism in the UK. And I made a bunch of friends as well!
The challenges of working in an unusual format for me (I have worked in print and online for the better part of my career), in a language and a culture that are not my own, has been challenging and sometimes hard. Other days I just realise that this is it, that I'm living the dream. These days I go home feeling very lucky, with a big smile on my face.
I guess it will be the same smile I'll have in the years to come, whenever I remember my incredible four months at the BBC.
20 October
The BBC 100 Women challenge
Indian Chevener Ritwika Mitra has been working for BBC 100 Women, producing news stories for the website.
The BBC's 100 Women Challenge: Change is Coming campaign took place in October with the aim of generating solutions to four everyday global problems faced by women. Teams of female talent worked together to invent, develop and deliver a prototype tech solution, product, or campaign that tackles each issue.
The four issues are breaking through the glass ceiling, tackling female illiteracy, combatting sexual harassment and improving safety on public transport, and sexism in sport.
Click on the photos to read Ritwika's articles.
11 October
Hard at work at HARDtalk
Indian scholar Arjun Chatterjee is interning at HARDtalk, which features in-depth, hard-hitting interviews with famous personalities from all walks of life.
Arjun is enjoying working with the HARDtalk team and renowned journalist and presenter Stephen Sackur.
They are currently producing a special episode of the programme with Oscar-winning actress and activist Jane Fonda.
Arjun studied Conflict, Security and Development at the University of Sussex in 2016/2017.
10 October
The night shift...
Tah Peter Fomonyuy is from Cameroon and is studying an MA in Political Communication at Cardiff University.
He's spending his placement at Newsday, which broadcasts live news, business and sport from around the world.
At Newsday he had a taste of the night shifts involved in broadcasting, which he describes as 'exciting'.
Put the coffee on!
Our 2017/2018 cohort
Ritwika Mitra, India, University of Birmingham,
100 Women
Anna Kosinskaya, Russia, City University,
Russian Service
Rebecca Tsotoo Kwei, Ghana, Cardiff University,
African Service
Tah Peter Fomonyuy, Cameroon, Cardiff University,
Newsday
Marwa Othman, Egypt, Goldsmiths, 
Arabic Service
Pooja Chhabria, India, Goldsmiths, 
DigiHub
Jose Luis Peñarredonda, Colombia, King's College London,
Future
Abdullah Hawez, Iraq, King's College London,
News Online
Biénne Huisman, South Africa, Royal Holloway,
The Arts Hour
Claire (Da Young) Lee, South Korea, SOAS,
Outside Source
Arjun Chatterjee, India, University of Sussex,
HARDtalk
Ivana Kostovska, Macedonia, University of Westminster,
The Forum/Solutions-Focused