Nine bridges that took my breath away
Fun fact, there are 28 rivers in the UK and the longest is the River Severn at 220 miles which runs through Wales and England. The most famous however, is probably the River Thames at 215 miles long. With this many rivers, it is no surprise that there are also many, many bridges. We asked scholars to show us bridges that took their breath away and collated the top nine.
1. CLYDE ARC, GLASGOW
Officially opened in 2006, the Clyde Arc (locally known as the Squinty Bridge) spans the River Clyde in Glasgow, Scotland. It was designed by the Halcrow Group.

Eshraq Tantawy

'It was a quiet Sunday afternoon when I decided to go for a walk along the River Clyde in Glasgow. It was sunny which is rare here. The walk was absolutely soothing; the fresh air, sun rays bathing through the yellowish tree leaves, and some clouds decorating the blue sky. The reflections of everything on the Clyde was absolutely gorgeous and I just had to capture it.'
---
2. WESTMINSTER BRIDGE, LONDON

One of London's most widely visited bridges, Westminster Bridge stands between the Houses of Parliament including Big Ben and the Southbank with the London Eye. It was originally built in 1750 but replaced with a new bridge designed by Thomas Page in 1862 – one year before he designed the Lendal Bridge in York. 

Tameka Hill

'In sixth form, my Literatures in English teacher, Mrs Porteous, introduced me to William Wordsworth. I fell in love with him and his poem, "Composed on Westminster Bridge." I committed then, 14 years ago, I wanted to see whatever he saw in 1802.

My Chevening Scholarship made that dream possible and as I stood on the bridge, seeing "a sight so touching in its majesty", I cried. He was right, it really is "bright and glittering in smokeless air".'
---
3. LENDAL BRIDGE, YORK
Designed by Thomas Page, the Lendal Bridge in York dates back to 1863. It was recently used as a location for the BBC Television series 'Gunpowder'.

Mickey Eva

'My classmates and I were traveling in York when this bridge caught my eye on our way from York railway station to York Minster. I just had to stop in the middle of the busy bridge to take some time to appreciate the beautiful view of the River Ouse against the stunning colours surrounding it.'
---
4. PALLADIAN BRIDGE, BATH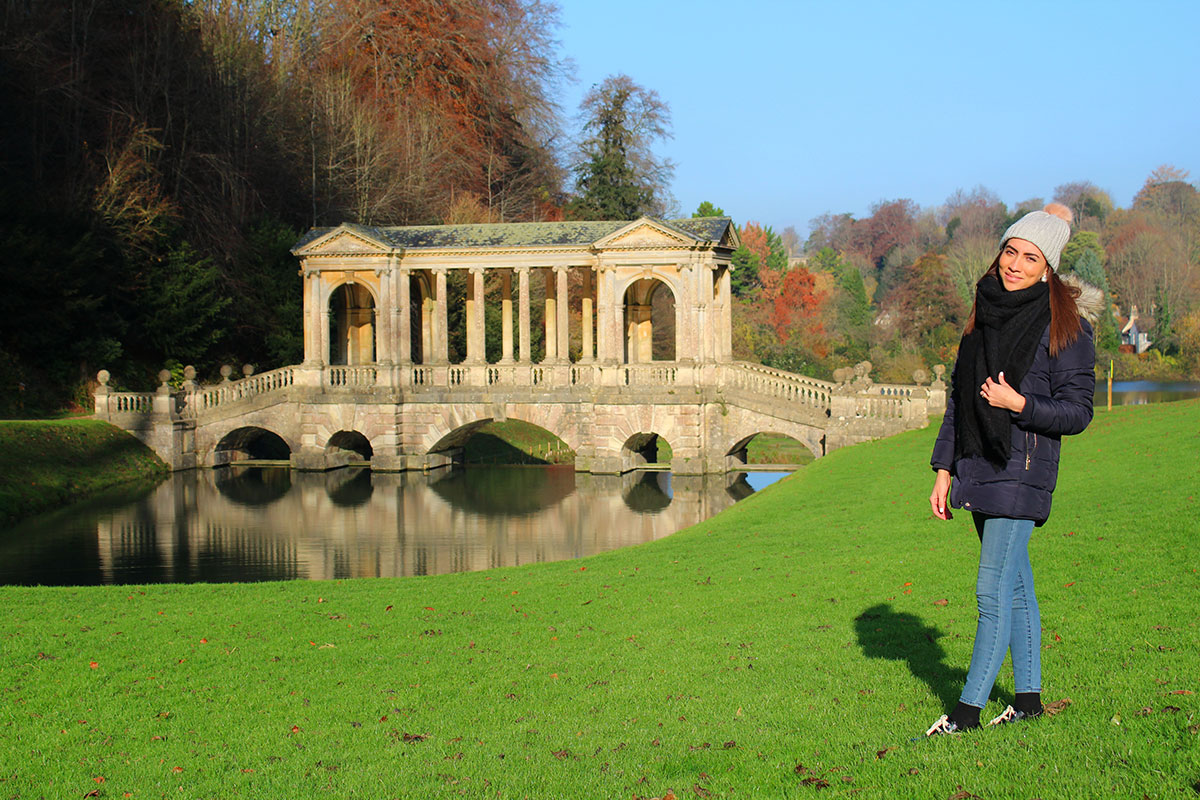 The Prior Park Landscape Garden which surrounds the Palladian bridge was designed in the 18th century by poet Alexander Pope and landscape gardener Capability Brown. The Palladian bridge has been designated a Grade I listed building in the UK.

Maria Luisa Izaguirre

'A Sunday well spent brings a week of content; this has been my life motto since I can remember. Once a month my friends and I, united by our photography passion, try to visit a different landmark in Bath or near this beautiful city to take pictures and have a good time.

Recently, we decided to visit Prior Park Landscape Garden; an 18th century garden located in Bath. I was amazed by its natural beauty, but was specifically impressed by the Palladian bridge located there. This bridge, situated among a series of lakes, is the last of three of its kind in England, making it even more special.'
---
5. WATERLOO BRIDGE, LONDON
Waterloo Bridge in London is one of 33 bridges that cross the River Thames. Historically, there have been two bridges on this site in London. The first, opened in 1817 was eventually demolished due to faults that developed within its structure due to increased use. The second, and current, Waterloo Bridge was designed by Sir Giles Gilbert Scott and officially opened in 1942.

Xuexia Xu
 
'London is a magnificent city. You may be super busy because of numerous opportunities to embrace diverse minds, to appreciate great arts, and to wander in parks while feeling the sunshine on your face...and you will also have millions of moments that touch you deeply.

During the mid-autumn festival, I walked through Waterloo Bridge and was completely amazed by the scene I witnessed.

There is a famous Chinese poem '海上生明月,天涯共此时'(As the bright moon shines over the sea, from far away you share this moment with me). In that exact moment, I was taken back to my hometown and to thinking of my family.'
---
6. BLUE BRIDGE, ST JAMES'S PARK, LONDON
A small footbridge in St James's Park, the Blue Bridge is a great spot from which you can see the ducks and swans below, or look further out to see Buckingham Palace on one side and Horse Guards Parade.

Shreya Garg

'With my travel happy feet, I came across several bridges which caught my eye and heart across England. The first of these was the Blue Bridge across St. James's Park lake which offers a breathtaking view of the Buckingham Palace and Horse Guards Parade. The bridge with the surrounding ochre and burnt amber trees, pelicans, and black swans looks nothing less than a freshly finished oil painting. The reason for its pale blue colour is to provide an uninterrupted view of the lake!' 
---
7. MILLENNIUM BRIDGE, LONDON
Built to commemorate the new millennium, the Millennium Bridge opened in June 2000. Noticing the bridge displayed a swaying motion, it was nicknamed the 'Wobbly Bridge' by Londoners. Despite the modifications to fix the bridge, it is still lovingly referred to by this name by some.

Phuong Anh Nguyen

'I start my afternoon of wanderlust from St Paul's Cathedral. There is a bridge crossing over the River Thames and connecting the cathedral with the fabulous Tate Modern – this is Millennium Bridge.

In my opinion, the bridge is easily distinguished from other bridges in London as it seems to be a symbol of a dynamic, vibrant, and modern London. The bridge has appeared in some famous films such as Harry Porter.

During this sunny afternoon, I enjoyed the beauty of the River Thames and could see the iconic Tower Bridge in the distance. From one side of the bridge, I could also frame the wonderful view of the cathedral with the bridge supports below.'
---
8. TAY ROAD BRIDGE, DUNDEE
Designed by William A. Fairhurst, the Tay Road Bridge was opened in 1966 and remains active to this day. At 1.4 miles, the bridge is one of the longest road bridges in Europe. Nicknamed 'Steve' following an online poll, the bridge became toll free along with all other bridges in Scotland in 2008. 

Mary Barton

'It was a lazy Sunday afternoon and the clouds had finally cleared so I decided to go outside and explore my neighbourhood. The sight that met me was glorious; I could see the Tay Road Bridge in the near distance. I had driven over its 2250m length the week before, but I just never appreciated its beauty. Connecting Dundee and Newport-on-Tay, the 52-year-old bridge took three years to build and stands as a marvellous feat of engineering. I spent the afternoon trying to capture the bridge from different angles and it was an afternoon well spent.'
---
9. TOWER BRIDGE, LONDON
The most famous of all UK bridges is Tower Bridge (often confused with London Bridge) and with multiple entries for this breathtaking bridge, our scholars proved this statement.

Phuong Anh Nguyen

'After visiting the Tate Modern on the southern end of Millennium Bridge (shown above), I walked along the river, passing the Globe Theatre, the Shard, and Borough Market, I saw the iconic Tower Bridge - one of the world's most famous bridges and London's most recognised landmark. Under the sunset glow, the Victorian Gothic style bridge was much more fascinating. From there, I could also see other famous attractions of London such as Tower of London, City Hall, and more!'
 
Sergio Mendoza Reyes

'I'm enjoying the cold wind hitting my face whilst riding my new bicycle – one that my friend has lent me for the year I'll be here. I'm just exploring this huge city when I see a stone mass with two towers. It's the two towers of Tower Bridge, one of the most iconic structures in London.

It was built in 1886, but it looks like it is from the Middle Ages – a time of cavaliers, kings, and castles; though all these things are still present here in 2019 too.'
Chandra Craigg
'On my Chevening bucket list was to see the infamous London Bridge… or rather Tower Bridge. I was so happy to be able to check that off my list after seeing it in many movies. It's so beautiful and well crafted, I loved it.'
Ziyad Rafidi
'I was happily lost in London one night, and walking towards the River Thames. Suddenly I bumped into an astonishing view: Tower Bridge!'
---
Thank you to all of our scholars who submitted pictures and stories to this theme.
To submit your own pictures and stories to the latest themes, please check your most recent Scholargram for submission details.
For more information about some of our featured locations and events, please follow the links below.