Twenty-one of the most British things that I've spotted whilst in the UK
A quick online search for 'the most British things' brings up a vast array of Britishisms but the most common seem to be: saying sorry, queueing, (bad teeth), separate hot and cold water taps, roast dinners, and tea and crumpets with the Queen. Naturally, everyone in the UK has tea with the Queen at least once. And sarcasm comes up quite commonly too.
After a year in the UK, our scholars are now probably quite used to these quirky British things but with a new batch of scholars arriving from all over the world, we wanted to put together a short list of some of the most British things our 2017 scholars have spotted whilst in the UK. Some are definitely more traditional than others.
1. CRISPS
It's reported that people in the UK eat around 500 million crisps per day… that's a lot of crisps!

Alina Saba, Nepal

'I would like to be quite controversial here and dare to call 'crisps' the national food of the UK rather than 'fish and chips'. This is one of the most British things I have noticed in my everyday life. In almost every hour of the day and paired with the majority of foods in cafes, restaurant or pubs it's the 'crisps' I see people munching on lovingly. They come in different brands and flavours – you name it and almost everyone claims to be UKs best crisp. It took me a while to switch from calling it chips to crisps but it did not took me long to declare it one of my comfort foods. Especially when it comes as a part of generous meal deal pack at the university café. There is definitely special joy in popping open the new pack and in a moment, it disappears in your mouth.  Drinking in the pub, sunbathing in the park, train journey or working on deadline it was the crunching of crisps that made the experience complete.'
---
2. GREAT BRITISH FOODS
Toad in a hole, pigs in blankets, Mr Brain's pork faggots, jellied eels. (Jouyin Teoh)
---
3. TUBE ANNOUNCEMENTS
'Mind the gap' (Ova Tovmasyan), 'mind the closing doors' (Mukta Balroop), 'please be careful as you alight' (Mahmoud Tareq Bashour).
---
4. 'SORRY'
'Apologising all the time' (Alina Saba), 'I have never heard that much "sorry" ever in my life' (Sabina Aghayeva), 'apologising to an inanimate object' (Yulia Tsgv), 'to say "sorry" for everything...all the time...even though it wasn't their fault' (Fer Acosta), 'when you accidentally step on someone on the tube and they say sorry' (Lorelis Olivera Diaz).
---
5. LONDON EYE
The London Eye; a 135 meter tall cantilevered observation wheel (not a Ferris wheel) in the heart of London was formally opened on 31 December 1999 to mark the millennium. It has since become one of London's most popular tourist attractions and a symbol of the London skyline.

Ana Cristina Gutierrez, Costa Rica

'"When you change the way you look at things, the things you look at change" 

From every position that you observe the London Eye, you will perceive a different angle. Same in life. Every person has a story behind them, and situation they're going through. This year in the UK has taught me that there are always different sides of history, and it is essential to acknowledge that in order to act. 

Don't rush things, be patient, be wise. Learn to listen and observe all different perspectives and points of view. Don't judge. Every person is looking with their own personal glasses. Glasses that have been moulded by their own experiences and circumstances.'
---
6. BRITISH POLITENESS
'Saying thank you after someone thanks you' (Gelson JCaela), 'holding the door for the other person who is walking so painfully slow' (Andres Freddy II), 'here, every eye contact with a stranger births a short-lived smile' (Igwebuike John), 'how the british hold the door open for you till you get there' (Zainab Badr Assal), '"I am afraid" means "no"' (Malik Farrukh Adnan).
---
7. CROSSING THE ROAD
'Waiting for Green light to cross the road for several minutes only to realise that you have to press the button on the post for the pedestrian to cross' (Ma Jobs), 'signs on London streets pointing to which way to look before crossing the street' (Mahmoud Tareq Beshir), 'panoramic check before crossing the street, always' (Safouane Benazzouz).
---
8. BRITISH CLOTHING
'Wearing shorts and t-shirts during winter' (Khavi Homsombath), 'sweater and flip flops (same person at the same time)' (Ivana Boskovic), 'Tartan! Tartan scarves, tartan kilts, tartan prints' (Mahmoud Tareq Beshir).
---
9. BRITISH SKIES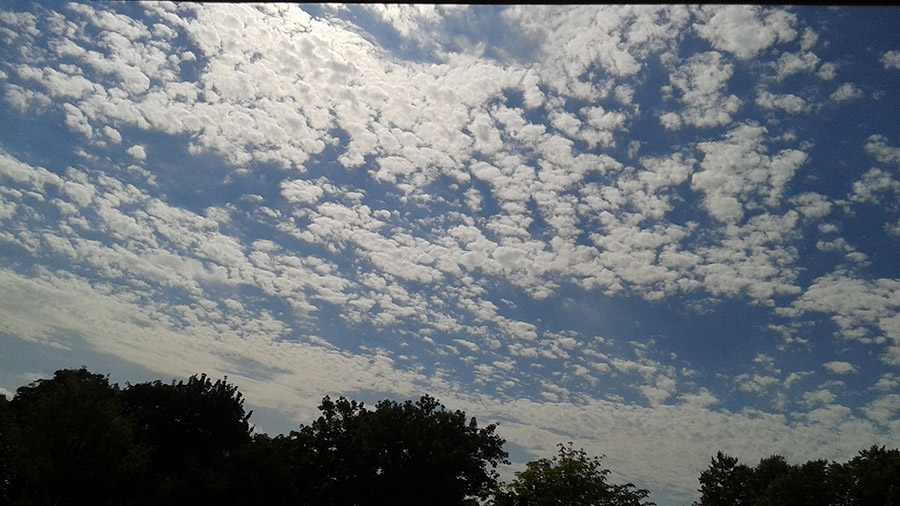 One major advantage to having a weather system which can go from sunny to snowy in the same day is that it's often accompanied by incredible cloud formations. You could cloud-watch all day and see everything from cumulus clouds to nimbus clouds all from the same spot.

Ezechiel Nyabenda, Burundi

'While I was moving throughout West Yorkshire, I spotted a tree and climbed it. When I was up sitting on its branches, I noticed that the UK is a place where the heavenly powers converse with earthly creatures.'
---
10. SUMMER VS WINTER SUNSET TIMES
'Finishing a class at 3 and wanting to go to sleep because it was already getting dark' (Santiago Borda Esquivel), 'Long 19-hour days of sun in summer and short 7 hours of sun winters' (Mahmoud Tareq Beshir), 'Winter sunset at 4pm, and 10pm in Summer.' (Mncedisi Taala).
---
11. OYSTER CARD
'Where oyster doesn't refer to seafood but the most important mode of transportation' (Anum Anwer).
---
12. SANDWICHES
'You will be sure to see sandwiches for Lunch at almost any conference, and school/business event' (Amuelle Kirnon), 'sandwiches, the english way - with crisps inside of it' (Julio Clavijo), 'sandwich takes it. Whenever lunch was provided it was almost always a sandwich' (Rede Rede).
---
13. AFTERNOON TEA
The tradition of afternoon tea dates back to the 1840's when wealthy social classes would gather for a light meal in the late afternoon between lunch and dinner times. It typically consisted of tea, sandwiches, bread and butter, scones, and cakes.

Rahmi Adhelia, Indonesia

'Five Cheveners and I paid a short visit to Exeter during our road trip last May. We had our afternoon tea at a cafe next to Exeter Cathedral and tried its famous scone in Devonshire style. Yes, in Devonshire style, cream is put first on the scone then jam, but in Cornish style, it is jam first then cream.  Although it has been a long debate about how to eat a scone properly, I enjoy both the jam first and cream first styles since I do not taste a significant difference between them :)'
---
14. SCOTTISH/NORTHERN IRISH CURRENCY
'Scotland and Northern Ireland have their own currency which is legal tender elsewhere in the UK but if you use them anywhere else outside those contexts people might not accept them' (Jouyin Teoh)
---
15. 'YOU ALRIGHT?'
'All the store employees asking "you alright?"' (May Myat Noe Naing), 'realising, after a five minute awkward talk, that the British don't ask "are you alright?" because they see you unwell' (Santiago Borda Esquivel), 'someone asked me "are you okay?" which was a way of asking "how are you?"' (Komal Anwar), '"hiya" and "are you alright? Instead of how are you?"' (Muyleng Taing).
---
16. THANKING YOUR BUS DRIVER
'Saying thank you to the bus driver' (Mada Hanjahanja-Mondiwa), 'everyone thanks or greets the bus driver as they leave the bus.' (Mahmoud Tareq Beshir), 'people say "thank you" to the driver while getting off bus' (Faridul Anwar), 'thanking bus drivers all the time' (Krisna Widitya Putri).
---
17. HENRY HOOVER
A true British staple, the Henry vacuum cleaner was invented in 1979 by British company, Numatic as a way to appeal to both children and adults alike. The Henry range developed over the years to include other characters such as Hetty, George, and James. Henry is often used as a commercial vacuum cleaner and can be seen rolling around empty stores and office buildings in the late evenings.

Mariana Semehen, Ukraine

'In September 2017, I moved into student halls located in a lovely and quiet North London neighbourhood. The delight from the first time I saw iconic red double-decker buses, black cabs and London's tube roundel (everything I could see on my way from the Heathrow Airport to my residence) immediately transformed into the sadness of being apart from the people I loved. We discovered a way to travel 2,500km in just 2 hours, but still do not know how to make our feelings and minds adapt so fast to be present in the here and now. I was listening to the sound of rain while unpacking my luggage and thinking about starting a new phase of my life; my Chevening journey. 

Then I met Henry. He gave me a cheeky smile that just seemed so genuinely sweet that I could not help but smile back. Henry was "born" in the 1970's to cheer up cleaning workers who felt lonely while cleaning up empty offices in the early morning.  Henry is not just a vacuum cleaner with a smiley face faithfully serving British households for the last 40 years. He is an iconic character making boring things funny and even slightly magical and this is not just about cleaning the home but about every single moment in our lives. We cannot replay our lives when we fail, but we can definitely think about it in a different way. Just keep following Henry's rule and smile!'
---
18. BRITISH EXPRESSIONS
'Expressions such as 'I reckon' and 'whilst'. Oh, and 'sorry, please, thank you' are used more in this country than elsewhere I have ever been' (Fai Fai), '"Mate, Lads" – I can assure you that where I come from these words don't make up our English dictionary' (Andres Freddy II), saying "Cheeky"' (Carmen Fernandez Ardiles), 'most of the conversations ending with "cheers!"' (Ananda Nidhi)
---
19. LOVE/LOVELY
'"Hiya love" - my first incidence was on my very first day in Leeds at a convenience store and I was like aww, so sweet!! Then I came to know it was an everyday thing and I wasn't special (Shai Abdullah), 'I have fallen in love with the word 'lovely'. All Brits say it at least thrice daily' (Igwebuike John), 'everyone called me "darling" or "love". Well, I was only used to getting that from my significant other' (Mncedisi Taala), 'always "lovely"' (Guilherme Pedretti).
---
20. FLOOR NUMBERS
'First floor is not the first floor but the second' (Santiago Borda Esquivel), 'my university give numbers for the floor based on its height above the sea level – the underground could be level 11' (Mariam Zaquout).
---
21. SIGNAGE
Whilst the UK takes health and safety information boards very seriously, it does so in ways that will appeal to the mass public. One example is speed signs on roads which feature pictures from children at the bottom. A stark reminder of what breaking the rules could mean.

Ha Pham, Vietnam

'Pictures are worth more than any words'.
---
Cheers for a lovely run of scholar blogs from Chevening's class of 2017. The scholar blogs will return in late October with fresh content from the incoming class of 2018.

If you are in the class of 2018 and want to know how to submit pictures and stories of your own for upcoming themes, information about submissions will be in your Scholargram.