Ten of the best beaches I've visited in the UK
There are some things you automatically associate with the beach such as sand, sunshine, and swimming. Then, there is the UK – often overlooked when speaking about beaches despite being a set of islands with over 1500 beaches. In order to change this perception, and to pair perfectly with one of the best UK summers our scholars could have experienced, we wanted to showcase ten of the best beaches our scholars have visited in the UK.
1. GIANT'S CAUSEWAY, NORTHERN IRELAND
It's said that the Giant's Causeway in Northern Ireland was in fact, a causeway built by a giant who according to Gaelic mythology, was challenged to a fight by Scottish giant, Benandonner. It's also said that around 50-60 million years ago, this space was subject to extensive volcanic activity which caused the pillar-like structures to form and remain to this day. Either way, Giant's Causeway is a UNESCO World Heritage Site that must be seen.

Faisal Rachman, Indonesia

'Winter Sunset in Giant's Causeway 

A causeway made by a Giant? A geological phenomenon marked the age of the Earth? Whatever your pick, the only Northern Irish UNESCO World Heritage Site will always be the best beach in UK that I visited. Even under the gloomy winter sky the beach still offered a magically serene atmosphere. On top of that, I watched this beautiful sunset with fellow Indonesian Cheveners which made sure the scenery will be forever hung on the wall of my memories.'
---
2. BRIGHTON BEACH, SUSSEX
Brighton's seagulls are as popular as Brighton is itself – so much so that the Brighton & Hove Albion F.C. have been nicknamed the Seagulls. Brighton itself is a true British seaside city complete with a very popular pier, marina, and laid back atmosphere.

Abdellah Iraamane, Morocco

'Brighton beach is one of the few places I've seen in the UK where one can tell what time of the year it is just by looking at it. I've taken photos of this place through rain, snow, and sun, and each time there is something different. The people, the sea, the clouds, the vibe and the atmosphere are very different as the seasons change. Perhaps what remains the same is the excessive number of seagulls roaming around. It's like a new place every time, and that's what I love about it.'
Kojiro Yoshioka, Japan

'A starling murmuration over the remains of the Brighton West Pier just before dusk on 29 December, 2017, the only thing I've seen dancing in the sky other than northern lights. It was the last sunset I saw in Brighton in 2017 and the first starling murmuration I encountered in my life. Although I lived in Brighton for over three months at that time, I did not realise that Brighton has such a breathtaking scenery until a fellow Chevener from Cambridge visited Brighton and let me know it. I appreciated the beauty of nature and encouragement of my friend.'
---
3. BAMBURGH, NORTHUMBERLAND
Perfect for mixing sight-seeing and a beach day, Bamburgh beach has dune-fringed sands, a historic castle, consistent waves for surfing, and a view of the nearby Farne Islands. Bamburgh is also known for being the place that launched the first ever lifeboat.

Viengdalat Somphet, Laos

'Overlooked by the famous Bamburgh Castle, it's the breath-taking views of the white sandy beach stretches for miles and the many shades of blue that connect the skyline and the ocean on the horizon. This picture reminds me of the never-ending clear blue sky summer under the warm sun, it was so surreal – the most beautiful beach and coastline I've ever seen.'
---
4. ABERMAWR, PEMBROKESHIRE
Considered a Site of Special Scientific Interest, Abermawr beach based on the Pembrokeshire coast in Wales, is as remote as it is beautiful. With access limited to walking through the bluebell woods and wildlife-rich marshes which lay behind the beach, it is as private as you would expect.

Melodie Lamera, Indonesia

'How much more beautiful can Wales get?! Accessible only by hiking through the woods, a field of bluebells, and several cows grazing along the path, the Abermawr beach in beautiful Pembrokeshire is the perfect spot to unwind. No beach facilities means no crowds and no buildings in sight, only rolling hills and rolling waves stretching into the horizon.'
---
5. HOLYWOOD, BELFAST
With large coastal areas, Northern Ireland is home to many beaches such as this one near Holywood in Belfast. Nearby to the local town of Holywood, there are many activities to take part in on any given day.

Akmaral Sman, Kazakhstan

'It was a windy morning when me and my friend decided to sneak out of the city and spontaneously go to the beach to see bunch of H2O. Living in London makes your eyes get used to the skyscrapers and double-decker buses, so when you see the sea you feel relieved and free for a certain moment. I went to walk shoeless in the cold water at the beach close to Holywood Road Station in Belfast. It was windy and we couldn't swim, yet we could let our feet feel the water.

I am from Kazakhstan which is the biggest landlocked country in the world, which means I can climb mountains and hike through fields but I cannot swim in the sea. I will miss the noise of the waves, the beautiful seashells, and the warm sand beneath my feet.'
---
6. LONG SANDS BEACH, TYNEMOUTH
Based near Newcastle, Long Sands Beach in Tynemouth was once voted the best UK beach by online members of a popular travel website. It's easy to see why when you think of the golden sands, low dunes, and powerful waves for surfers in the winter. Nearby, there are activities to keep people with a wide range of interests happily occupied.

Jonathan Melville, Guyana

'I took this photo at Tynemouth Beach in Newcastle when the sea was calm.'
---
7. TORQUAY, DEVON
A seaside town with a population of circa 65,000 people, Torquay in Devon is known for its natural beauty and healthy climate. World-renowned author Agatha Christie was born in this quaint seaside town and is commemorated by plaques dedicated to her life and work.

Frida Rica, Albania

'This photo was taken in Torquay which is a picturesque town located in the south of England; a part known as the English Riviera. I was lucky to be in this town during a "heatwave" and witness its beauty in the best light. My absolute favourite thing there were the colourful beach huts that made me feel like I was visiting another era that I had only seen in old movies. During that trip I saw another side of the UK that resembled more what you'd expect to see in a Mediterranean town and I found it completely charming!'
---
8. SEA PARK, BELFAST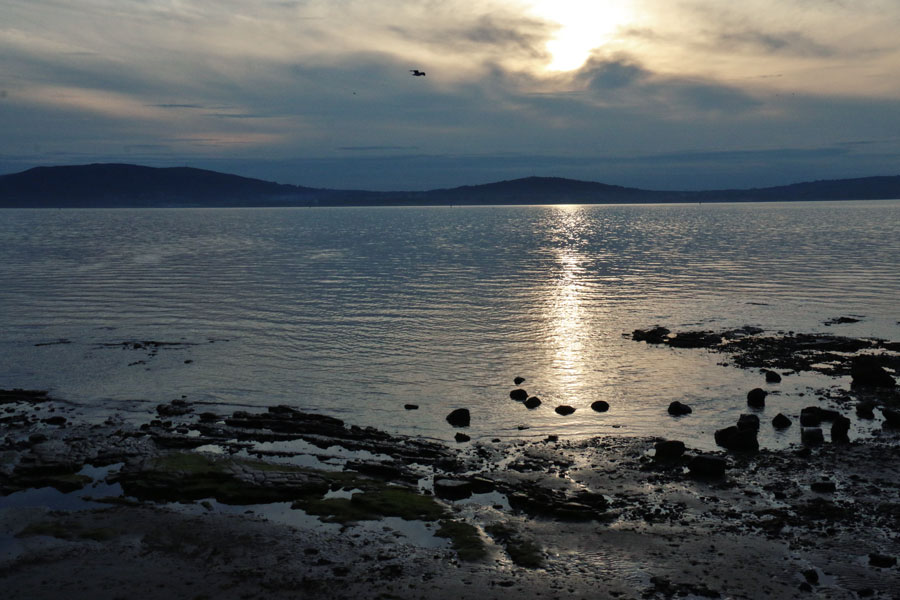 Seapark is a seafront area known for the Seapark Recreation Ground which is a large facility with many activities for everyone to enjoy. There are tennis courts, a bowling green, children's safe playground, and much more. It is also home to the annual fireworks display which takes place at Halloween each year.

Aigerim Toleukhan, Kazakhstan

'This photo was taken in Seapark, Belfast which is my favourite because I have very positive associations with my time in Belfast. I tried HostUK's programme and at that time, I had a lovely talk with my host Sheena. Although pretty cold, it was a beautiful sunset and this photo reminds me of the opportunities that are in front of you and can you up high above any obstacles you might face if you maintain a strong desire and faith in yourself.'
---
9. CROMER, NORFOLK
This quaint coastal town in Norfolk is known locally as the 'Gem of the Norfolk Coast' and is famous for the Cromer crab which provides a large portion of the town's economy. The town also has a popular traditional pier complete with theatre providing special variety shows to visitors.

Natalia Mendonca, Brazil

'Cromer is considered the Norfolk gem, and yes, I've found why! I went there in a not so clear weather day (British surprises!) in Norfolk: after so many weeks without a single raindrop and this odd summer heat, why not try the beach to cope with the shiny day? What I've found is that it is not like any regular beach I've ever seen. As a true tropical Brazilian that I am, sand and ocean would be totally usual and expected, right? But the Norfolk gem caught my heart with a white-like stony beach in a sensational loving view. Just laying down on that clear round stones made my dissertation concerns disappear! What to look at? The wide blue sea? The high colourful buildings behind? The captivating children building little castles with some stones? What about that lovely pier and its sweet ice cream? Not so sure! But my heart had the perfect time to fall in love with that all.'
---
10. PORTHCURNO, CORNWALL
Close to Penzance on the Cornish coast, Porthcurno is a beach which is popular with visitors for its clear blue waters and soft sands. It's also overlooked by the Minack Theatre and together, they form a sight which should be experienced.

Raksachai Nathongchai, Thailand

'I took this photo with my phone when I was exploring the beautiful nature of Cornwall last April. This is the view of Porthcurno Beach and rocky coastline from a cliff I climbed up. This scenery was absolutely stunning and worth capturing.'
---
Thank you to all of our scholars who submitted pictures and stories to this theme. 
For more information about our featured locations, please follow the links below.