Fifteen things that make me miss home a little less
It's the lead up to Christmas – a joyful time in the UK, but also the start of winter with the days getting shorter and the nights longer. As the cold weather sets in, it's natural to miss home and all of your homely comforts. Not all days in any new country will be easy and for our scholars, the UK will be no different. There are however, many different elements to living in the UK that will make you feel welcome and help you feel at home. Our scholars shared the things that help them the most in this list of 15 things that make them miss home a little less.
1. NATURE COMBATS HOMESICKNESS
Fun fact: only 6% of the UK is built-on urban spaces. The remainder are various types of green spaces!

Gulnoza Kuldosheva, Uzbekistan

'Nature in the UK never lets me feel homesick! 

Walking in lovely green parks and gardens in London has become an important activity through which I enjoy nature, gain concentration, and interact with people. Regent's park and Primrose hill are my favourite places to visit often to take fresh air and enjoy the natural spaces. I feel the closeness of nature and mankind so much more when I visit these places and remember how important it is to care about our environment. The glorious colours, trees, birds, and squirrels let my whole fatigue completely disappear whilst observing other people and having conversations with them boosts my mood and broadens my understanding of UK culture. 

Recently, I have had a chance to discover Windsor Great Park during a two day workshop from my master's programme. I was so amazed by the natural landscape, wildlife, and cleanliness of the air. For the first time in my life I could see deer live in front of me and experience the UK woodlands' true beauty.'
---
2. 3PM SUNSET

Based on the UK's location in the northern hemisphere, it's common to have winter sunsets as early as around 3:15pm and summer sunsets as late as around 10:30pm!

Onyango Okech, South Sudan

'These photos were taken on my visit to Leigh-On-Sea at the invitation of a course mate. It made me remember how far I have come to witness the sun set at 3 o'clock and not 6:45. It was here also that I had my first English dinner in an English home which made me appreciate how special my Chevening journey has been due to the support of friends and colleagues.

I must say the first days were a bit overwhelming due to loneliness. The cold and chilly weather did not make things any better. However, with each passing day, it became crystal clear that I needed to go out more than stay in my room.

Whenever I went out, I was welcomed with new faces. The more I interacted with different people, the more I appreciated the diversity and experience of each individual. After all, behind every face, lies a story. I quickly made new friends especially at school and accommodation. Life became increasingly bearable. Certainly, the feeling of loneliness flew out the window and my life became illuminated with the sweet scent of friendship. Through them, I learnt how to manoeuvre my ways through the maze of London-life. Through them, I visited places that I wouldn't have imagined existed.

Above all, I have learnt to live and love my UK Chevening experience. The feeling is marvellous! Although the clocks have gone back and the evenings have become darker, my life is illuminated by the warmth of friendship and hospitality of those around me.'
---
3. 49% OF GREEN SPACES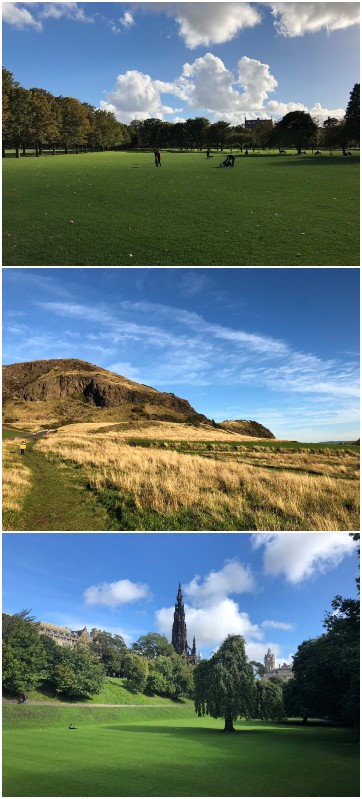 Edinburgh tops the list for the UK's most green city at 49.2%

Caroline Brocos, Peru

'I am living in Edinburgh and something that make me miss home a little less is having access to many green areas just a short walk from my residence. This amazing city has 49% green spaces!' 
---
4. POWER WALKING
The UK capital, London was founded in 50 AD and has continued to grow ever since.

Feifan Li, China

'In October, I joined in a 'power walk' with my classmates, exploring some gorgeous landscapes of power, such as St Paul's Cathedral and the Royal Courts of Justice. I learned a lot about English constitutional history, law, politics, religions, economics, and architectures, immersing myself in the dynamics of power in central London. 

The posted image was taken from the waterloo bridge during the power walk, showing the fantastic landscape of central London. Among them, we can see the world famous St Paul's Cathedral. The Cathedral has been there for over 1400 years. It has been built and rebuilt five times! The present one was built between 1675 and 1710, being the first Cathedral to be built after the English Reformation, when the Crown took control of the life of the church. It is said that to reflect the authority of religions, for a long time, buildings within certain reach cannot be higher than the Cathedral. 

As time goes by, the Cathedral witnessed the rapid growth of modern industries in London. So now, when we look at these skyscrapers around the Cathedral owned by insurance companies and banks of business and finance industries, we could strongly feel the development of modern society and a brand new landscape within the same central London area formulated by this tendency. 

All in all, I am deeply enchanted by a tour of such extraordinary scenery of London, especially the rich political, cultural, and economic implications behind them, which makes me miss home a little less.'
---
5. MANCHESTER UNITED
Manchester United are the UK team with the most number of wins, goals, and clean sheets in the Premier League. They have been at Old Trafford Stadium since 1910.

Yiwei Zhang, China

'As a huge fan of football and of Manchester United, the football atmosphere and culture in the UK has always fascinated me.

The Premier League is one of my favourite football leagues. I used to watch the matches every weekend. I was so excited when Manchester United won the UEFA Champions League in 1999. It's the greatest match I've ever seen! I can clearly recall every dramatic moment of the match now. Did you see the match? David Beckham and Ryan Giggs are my idols. I learned loyalty, hard work, and teamwork qualities from them.

Indeed, Manchester is the mecca in my mind, so I visited Manchester and Old Trafford Stadium recently to watch the Manchester United vs Everton match. I then attended a stadium and museum tour. When I stepped into the Old Trafford Stadium on the match day, I was totally shocked by the overwhelming explosive atmosphere, which made me have no word to express my feeling at that moment. The entire match was amazing. You can imagine how magnificent the scene of over 74,500 people shouting and singing at the same time in the huge stadium was. Finally, Manchester United won the game by 2:0. 

It is so exciting to watch the fantastic game in my dreamland, which is practically like a dream come true. This precious memory has weakened my homesickness a lot and will be my wealth forever!'
---
6. SUDAH MAKAN?
Owing in large part to its very culturally diverse population, the UK is host to food from many different parts of the world. The most common? Curry and kebab.

Mei Zhern Tey, Malaysia

'A lot of Malaysian culture revolves around our food and Malaysians take great pride in the diversity of flavours influenced by our historical roots. In fact a common question which often follows after a greeting is, 'Sudah Makan?' which means: 'have you eaten?' signifying how important food is to us.

Naturally, being away from home has made me miss food so immensely that the sight of "onde-onde" or a traditional Malay sweet delicacy in Chinatown got my heart racing. 

What makes me miss home a little less is cooking my version of comfort food: Chinese style fried rice, noodles with soup, ginger chicken (unfortunately, Malaysian curries which are simply heavenly are beyond my level of skill) and sharing food with my flat mates as well. 

There is so much culture in food and I was able to get in touch with my oriental roots as well by learning how to make Chinese dumplings (from scratch, no less!) from one of my Chinese class mates. Unfortunately, it did not look as glamorous as the dumpling making scene in the movie, Crazy Rich Asians. 

In addition to cooking food, the Malaysian in me also embarks on food hunts to locate unique delicacies and different cuisines. There is equally so much diversity which make up the UK meaning food from all parts of the world can easily be found. A few Malaysian Cheveners and I visited the Newcastle Sunday Quayside Market recently and tried a Greek dish called 'gyros' which was spectacular!'
---
7. CLIMBING ROCKS
With all of the green spaces in the UK, there are many opportunities to hike and climb mountains of varying sizes.

Etheldreda Leinyuy Mbivnjo, Cameroon

'Growing up in Shisong (north-west region in Cameroon) provided an avenue for me to play and have fun in the forest and on the hills on a daily basis.
Today, I have the opportunity to relive those good old days in the iconic scenery of the Snowdonia National Park, climbing the rocks and enjoying the soothing sound of the trees as the wind blows.
The close proximity of this national heritage to Bangor University, where I study, has made me to feel at home, away from home.'
---
8. A FLOCK OF GEESE
Lakes, mountains, greenery, and a mixture of the old and new makes the UK visually beautiful no matter which part of the country you are visiting!

Drashti Shah, India

'The University of Warwick is known for its green campus and immense beauty, and I feel fortunate to have got an opportunity to study at this University. The stretches of trees layered in multiple colours and the chirpy birds that call these trees their home are a delight to watch each time. The autumn magic has painted the university with host of colours which add more to the charm. 

The lake outside my accommodation has lovely ducks and fishes. The flock of geese is a common sight on the campus and one can often see them running helter-skelter in hunt for its food. My favourite spot on the campus is a wooden bench right beside the lake where I can declutter my thoughts and sit in peace with a calm mind. 

Apart from this, the excellent support staff consisting of my professors, tutors, mentors, and other people at Warwick has enabled me to settle down in this amazing place. There always has been a helping hand in case of any problems. 

The beautiful surroundings brighten my day and definitely help me to miss home a little less.'
---
9. RUNNING
The UK hosts several marathons with the most popular being the London Marathon but did you know, marathons were extended to 26.2 miles to accommodate Queen Alexandra's request for the royal household to see the marathon from Windsor Castle.

Akhmad Tutus Harmantoro, Indonesia

'Running is an activity that I like to do in my spare time. I do relish running as I feel puffy and inhale fresh air at the same time. It makes my mind fresher and relieves any burden in my head. 

You can always run anytime and anywhere in Sheffield; one of the greenest cities in UK. However, I have found my favourite running track near my flat. It is a 600 meters flat running track that encircles a lake, which used to be water supply reservoir, in Crookes Valley Park. 

The extra bonus of running on this track is beautiful scenery: combination of lake, park, and trees. It reminds me of a similar lake in my home island, Ranu Kumbolo, at the foot of Semeru Mountain, the highest mountain in Java Island. The difference is that I had to hike to elevation of 2300 meters above to sea level to see such beautiful scenery, whereas I can find it easily here in the heart of the city. 

Running here makes me ease my study load and home sickness, and, of course, maintain my physical and emotional health. I enjoy Sheffield and eager find my other favourite running tracks.'
---
10. A NEW FAMILY
Many scholars describe fellow Chevening Scholars of being akin to a family and we, for one, are glad this is the case!

Abeer Alaydi, Jordan

'But how can I miss home when home is with me? 

The first week I arrived to the UK everything was new to me and suddenly the social butterfly in me felt uncomfortable. I missed home, all the faces I know, all the streets I love and all the shortcuts I know by heart. 

That did not last for long and one week later I found a new home, that looks different, has different shortcuts that I do not recognise, new faces that are more colourful, and a routine that I love. 

I walk to the business school every day. I live 35 minutes away and in case you think I would be frustrated about that, you are wrong, I love seeing the colourful leaves falling everywhere, people walking their dogs, the rest houses, and the morning breeze. 

Now I have a new family, friends who discover all the shortcuts with me, laugh with me, and study hard with me; now all the faces are familiar. So, how can I miss home, when home is with me! 

In Leeds University we are 55 Chevening scholar so it is really hard to feel lonely, we meet regularly and share our thoughts and worries, being a Chevening scholar is incredible because no matter where I go I find scholars who host me and show me around. 

At the end of the day, I go back to my room with its amazing view in which I see the sky wearing a new colour every day.'
---
11. IN LOVE WITH THE RAINIEST CITY
The tradition of afternoon tea dates back to 1840 in the UK but naturally, tea is sipped throughout the entire day by all.

Dinara Izmaylova, Azerbaijan

'Though I am totally in love with the rainiest city in the UK (Express, 2017) I'm living in, sometimes I do miss my home which is now 5328km away. It just so happened that I am the only Scholar from Azerbaijan in Scotland, and one of only two Azerbaijani students in Glasgow city though I have never met the other one! 

To tackle this light gloom, I brought with me something that no Azerbaijani can imagine their life without… tea! Yes, tea is crucially important in our culture and we do not wait until 5 o'clock to treat ourselves with this drink, we drink it a minimum of 5 times a day!

Azerbaijan is very proud of its kaleidoscope of flavours and aromas when it comes to tea, but my favourite one (the one I brought with me) is the black tea with 'keklikotu' (a thyme variety).

We say that tea is the ultimate remedy for anything that goes wrong and it's the best thing you can start the day with. I have created my weekly ritual when I start my day with this refreshing and energizing drink with herbal notes and light bitterness in the taste. I like to add a little bit of sugar and a slice of lemon to pull out all the flavour. And it goes so perfectly well with my favourite Scottish shortbreads or toasts. 

So, every Sunday morning, whatever is the weather in Glasgow, it smells fresh and warm in my room; it smells like home.' 
---
12. MY FIRST DIWALI AWAY FROM HOME
Diwali is the festival of lights in India. It is celebrated with family gatherings, food, and placing candles around doorways.
Priya Sankalp, India

'Coming from a place which has a history of multicultural amalgamation and celebration of every festival with zeal and enthusiasm, the first Diwali away from home was going to be very disappointing I thought.

But one day before the festival of lights I decided to ask my Chevener friends to come and join me because they're the closest to a family I have here. 

What a night it was with the warmth and love of friends from around the world pouring in to celebrate and be a part of a universal family bound by Chevening. I knew I'd be away from home but I have a family here and everything is going to be alright.'
---
13. A CHARMING BEAUTY
A visit to Canterbury will enable you to see many historic sights such as Canterbury Cathedral but the quirkiest sight is perhaps Sir John Boys House which is more commonly known as 'The Crooked House'.

Einas Maizran, Libya

'It has been many days since the start of my Chevening journey in the UK.  My journey officially started on 20 September, at a very charming city called 'Canterbury'. One of the many things which makes me miss home a little less is Canterbury. It has a very subtle but charming beauty which puts you on a constant state of adventure. Its the small historical nooks and little details that kept me in a constant state of amazement, like walking along the old city walls and noticing the change of pavement stones from medieval to modern red bricks or passing by a 16th century skewed English house. A very old crooked house, leaning forward as if almost trying to see who was passing by. 

Things like carrying out new roles such as becoming a student representative for my class, trying out salsa class or attending open lectures on "The wisdom of psychopaths" combined with involvement in a broader university community and getting the chance to meet different student reps from different schools makes feel integrated in a new community. This eases the home sickness for me, knowing that I won't be sitting in my room but rather going to rep meetings or society events.   

Finally, the sheer excitement of travelling to new places on the weekend with Kent Cheveners by simply taking the train or the bus to places like Leeds Castle or the Roman Baths and discovering new things will make you miss home a little less.'  
---
14. CHINA IN THE UK

There are five official 'Chinatown' locations in the UK with two more unofficial locations.

Na Li, China

'It is the popularity of Chinese restaurants and supermarkets that makes me miss home less. There are different kinds of Chinese dishes provided by those restaurants which are quite delicious. Here is a picture of my friends (two of whom are also Chevening Scholars) and I having dinner in a Chinese restaurant and we all enjoyed the food.'
---
15. GIFTS FROM LONDON
Open House London is the annual event during which time many exclusive London buildings are open to the public for viewing.

Ana Melissa Torres, Panama

'These are the some of the little gifts from London that make me miss home a bit less: from admiring a breath-taking skyline from the top of the iconic BT Tower to just walking through Regent's Park and appreciating all the beautiful and bright colours that autumn brings. 

On my very first week in London, I was lucky enough to win an entry to the BT Tower through Open House London. This experience was a perfect welcoming as it introduced me to the city in the most wonderful way.

The beautiful parks complement this huge city with open green spaces to relax and appreciate nature. Simply walking through the parks gives me peace and makes me realise once again how incredibly lucky I am to go through this Chevening journey from London.'
---
Thank you to our scholars who submitted pictures and stories to this theme.
If you are a current scholar and wish to submit your own pictures and stories to the latest themes, please check your most recent scholargram for submission details.
For more information about some of our featured locations and events, please follow the links below.