Jump to Treasure Hunt item list
The UK is home to stunning natural landscapes, wonderful architecture, and world-renowned landmarks. It is also responsible for many well-known icons which can be found both in the UK and across the world.
This year's Chevening Treasure Hunt will kick off at Orientation in November with the release of your digital-batons, team designations, and of course, the places and items you will need to find! We will add more locations and items during the year so remember to keep checking back. The Treasure Hunt will officially finish in July 2022.
The class of 2021 has been split into two teams: a red team and a blue team. You have been split based on the university you are attending, and we encourage you to work together with others at your university, and at other universities within your team.
A list of teams and resources can be found here
The password is in the scholar Facebook group.
Between now and July 2022, we challenge you to:
Find your team and work collectively to organise yourselves
Collectively attempt to find all treasure hunt items and complete all of the challenges.
Provide evidence of your success by posting your most creative and fun pictures on social media displaying your digital-baton in images, and using the hashtag #CheveningTreasure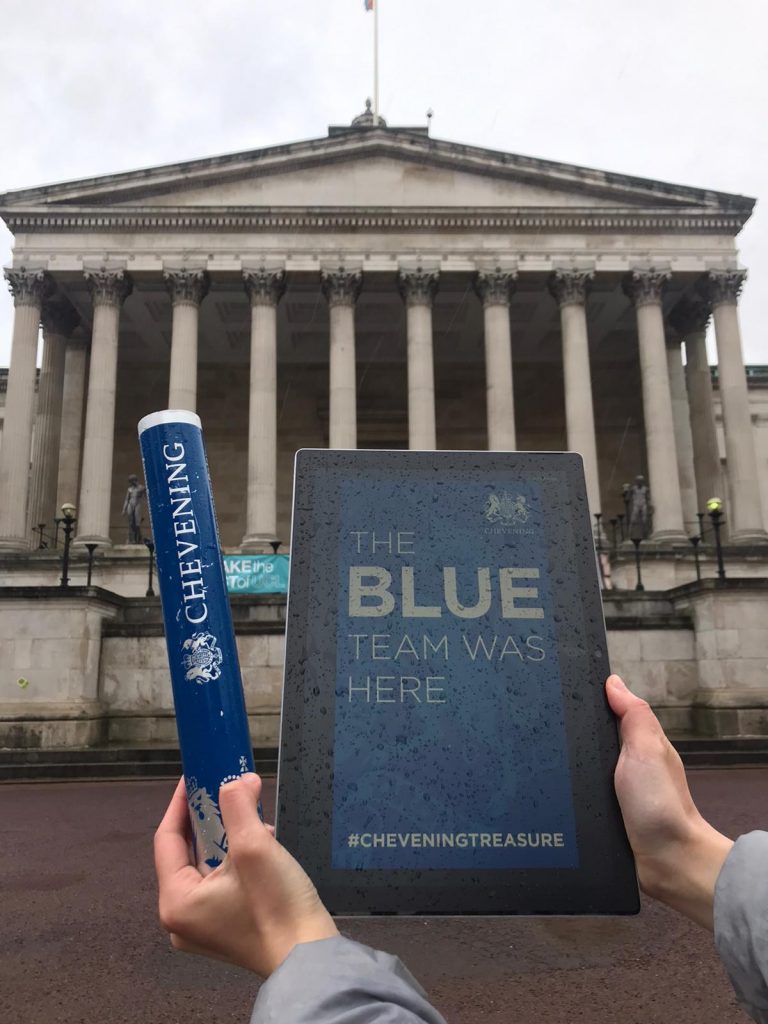 1) FIND YOUR TEAM AND WORK COLLECTIVELY TO ORGANISE YOURSELVES
Please be considerate of others in your team. We will not grant points to teams where the same few people are finding and posting all items. We want you to work as a collective.
2) FIND ALL OF THE TREASURE HUNT ITEMS AND POST THE EVIDENCE ON SOCIAL MEDIA 
The Chevening Treasure Hunt is a collaborative challenge. In this spirit, we've created a list of places and items which represent facets of Britishness. Your team must be the first to post photos with as many of these items, and at as many of these locations, as possible to gain points.
Remember all photos must contain your digital baton and that only the first team to get a picture of each item will receive points.
3) TAKE CREATIVE AND FUN PICTURES
Each of you will be given access to a digital-baton in your team's colour. Once you have downloaded it and you find an item on the Treasure Hunt list, please take a creative picture with it, and share it on social media (Instagram, Twitter, or the Facebook group) using the hashtag #CheveningTreasure.
You must find physical representations of all items. You cannot simply photograph a photograph of an item.
Which team do you think will score more points? Will the class of 2021 be the first to collect every item and complete every challenge beating all previous contenders? Final totals will be announced in July 2022.
At the end of your year in the UK, we will choose some of our favourite photos from the year to win prizes. These will be announced later in the year.
Remember, this is a team challenge, and the Chevening Secretariat will not help you in finding any item on this list.
= Blue team win

= Red team win
Location
Points
A

Angel of the North

1

You can find these angel wings near a particular station in London... (it's in the name!)

1

How do you pronounce 'scone'? Take a photo of yourself enjoying a day out of afternoon tea!

3
B

Banksy has art all over the UK. Find 3 original piece from this collection

3

Bath: Relax in Bath's Roman baths

2

Bristol - who was the most famous engineer here? Find 2 of his greatest designs!

2
C

Cheltenham – the hare and minotaur statue

2

Cheese - there is a gorge named after a famous cheese in the UK. Find this 'cheese gorge'.

2

Cardiff Castle - take a photo with a dragon in front of the Castle!

3
H

House: Find the smallest house in the UK

2

Hadrian's Wall

3

Hastings - take a photo by the beach

2
J

The famous John o'Groats sign

3

This serial killer was particularly famous in London... Find the museum!

1
K

Find a kilt from the Clan Bell with the clan crest

1

Kaymak is both a type of food and the surname of the Chevening Treasure Hunt founder. Find this food item.

1
L

Llanfairpwllgwyngyllgogerychwyrndrobwllllantysiliogogogoch

2

Lake District: climb the Old Man of Coniston

4

London: take in the views from the Shard

3
M

Mussenden Temple

2

Stroll along Mermaid Street in Rye

3

Where can you find the most celebrities in the capital city? Pose like a celebrity once you've found the location!

1
N

National Motor Museum: find Mr Bean's car

2

Nottingham Castle

3

National flag - can you dress in the classic British colours and also find the famous flag?

3
O

In the county Oxfordshire, find Sir Winston Churchill's birthplace

1

Oxford - the famous Harry Potter was filmed here. Find one of its locations and pose with your Potter glasses!

2

In 2012, London held one of the most prestigious events. Find the stadium!

1
P

The UK is home to many puffins. Find one.

1

We love a good picnic! Enjoy your picnic with friends whilst playing UNO.

3
R

Rick Astley's famous under-the-bridge location from the Never Gonna Give You Up video

2

Enjoy a roast dinner

4
S

Shetland Islands: find the natural Mirrie Dancers (not the chocolate)

3

Stone henge

4

Where does Sherlock Holmes live?

2
T

Where are the colourful houses of the fictional Ballamory? Take us there.

3

Tower Bridge

1

Are you a fan of Wimbledon? Show us your tennis skills at a tennis court!

2
U

Upon Avon somewhere lived a very famous British playwright. Find their house and take their first play with you

3

Umbrella: Enjoying the British weather!

3
W

Walk the Monopoly London board. We want a short video showing all stops along the board. You'll need to be creative for some of the stops but can exclude community chest/chance

5

Wales: paddle in the sea at Borth Beach

3

Weston-super-Mare! We love a good sunset, capture this here to earn points!

2
Y

The mural dedicated to the incredibly delicious Yorkshire Pudding recipe

3

Not all of us own a yacht, but can you find one?

2
BONUS

There are six Chevening goodie bags hidden on campus at five Chevening partner universities and one key Chevening-related location. Find them. If you find a goodie bag, you can keep it too! Hint: there are clues on our website which will tell you which universities have a goodie bag hidden there. #CheveningTreasure

5

Bangor University

5

Chevening Secretariat

5

Coventry University

5

University of Bradford

5

University of Salford

5

Aberystwyth University

5
Totals

Blue

78

Red

79