Alumni explore shared challenges and opportunities in Latin America
This March, five years after the first regional conference in Buenos Aires, alumni from 12 Latin American countries gathered in Bogotá for the second Chevening LATAM regional conference.
The conference was an initiative of the British Embassies Brasilia, La Paz, Buenos Aires, Mexico City, and Bogotá, as well as Chevening Alumni Colombia (CAC), and funded by the Chevening Alumni Programme Fund (CAPF). Its theme was 'Latin America: Strategies for Growth' and over two days, expert panellists covered key topics on regional trade opportunities, anticorruption and transnational crime, the regional response to sustainable development, and challenges of leadership in the region.
Expert panels
Panellists were a mixture of Chevening Alumni and other experts including those on the Foreign and Commonwealth Office's prestigious International Leaders Programme (ILP).
María Laura Roteta is Head of the Prosecutor's Office for Economic Crime and Money Laundering, Argentina. She described how individual collusion helps corruption persist in society with a visual metaphor: 'Corruption is like tango. We need two dancers. One who makes the payment, and one who receives the payment'. At the end of a lively discussion, the entire panel made a call to action for civil society, including Chevening Alumni, to participate in the fight against corruption and transnational crime, and to push for the right to have a clean and transparent society.
During the trade discussions, Federico Torres, Colombia General Manager of ARUP, described the challenge of trying to change some UK and Western companies' historically negative perceptions of Latin America, important for inward investment in the region.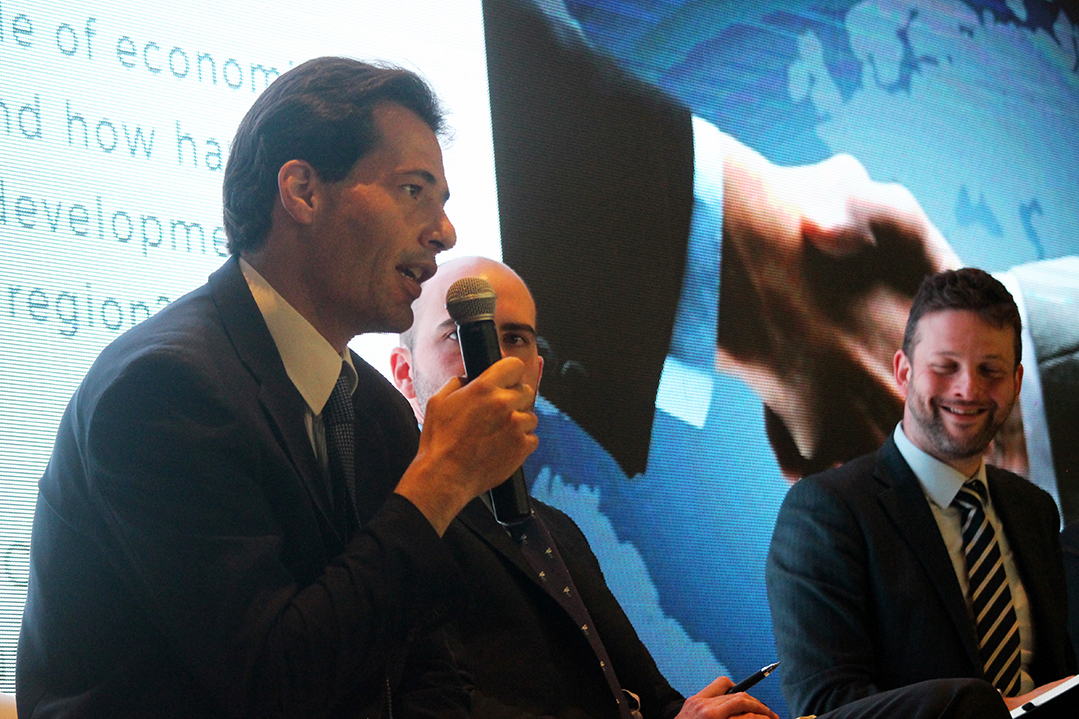 Claudia Vargas Vucsanovich, Water and Sanitation International Consultant from Bolivia, together with other panellists on sustainable development, urged the Chevening community in the region to take an active role in leading on solutions to sustainability issues. She told everyone 'water is heritage which must be protected', while Leonardo Machado Soares, Drilling Fluids Analyst at Newpark, surprised the room with the positive statistic that 45% of energy needs in Brazil are met through renewables. As the average globally is 16%, this was a note of hope for the region. 
Looking in depth at the global 'crisis of leadership', Arnulfo Valdivia showed statistics and trends on public perceptions of leadership. However, it all came down to reputation. In Arnulfo's words, 'a leader is someone …who is able to spark desire in others...people have to want to follow.' Arnulfo is Secretary of Foreign Affairs at Mexico's Institutional Revolutionary Party and, as well as a Chevening recipient, an ILP alumnus.
Alumni discussions
As well as the expert panels, CAC devised a series of workshops between panel sessions for participants to discuss the topics in small groups and suggest their own solutions for tackling some of the issues raised.
Attendees were hugely enthusiastic about collaborating on common interest projects and on developing a regional network based around using alumni expertise, in partnership with other organisations, to influence change.
The conference ended with the establishment of an interim committee representing all countries present and a commitment to move ahead with plans for a full regional network later this year.